Discover your Profitable Niche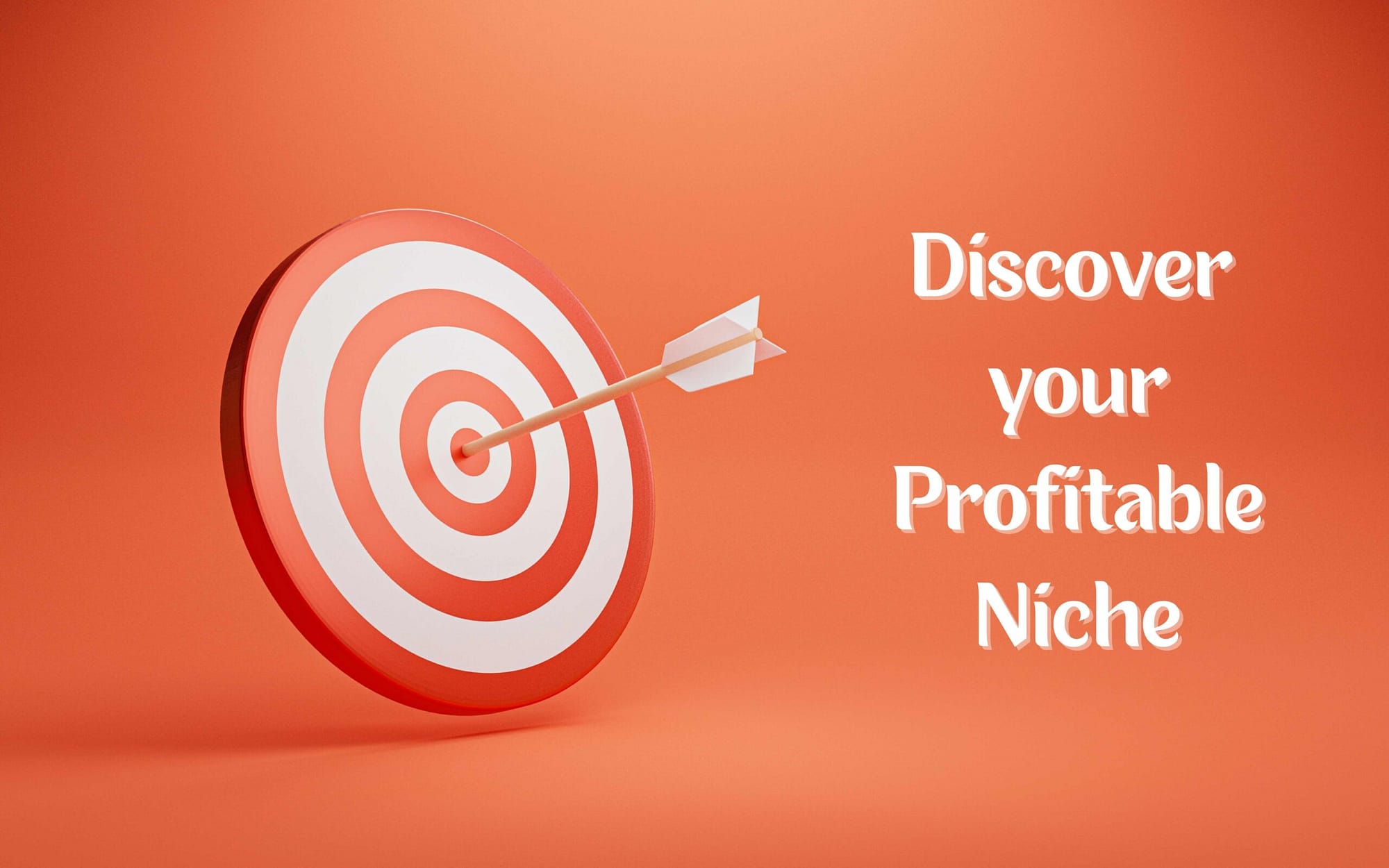 Imagine yourself calling everyone in a crowd.
What do you think will anybody bother?
No! Right?
What if you call their specific names?
There would be no doubt that they won't respond. Right?
And that's how niche targeting works.
In this discussion, you will understand-
What is a Niche?
Why is it Essential for you to choose a Niche?
And how to discover a profitable one for yourself?
This one is a good read for you if you're one among the-
People yet in search of a skill to serve the market with or to start their new business within a specific industry with the eventual purpose of finding their profitable niche.
eg- Kapil, who either wants to find a skill and his niche to serve that skill with or wants to start a new business and discover his niche.
Existing Professionals & Businesses already serving some products and services within an industry and want to discover their profitable niche within that industry.
eg- Shaan, who is yet to find his niche as a digital marketing professional, or an already running e-commerce brand XYZ with a general store wanting to niche down and sell some specific categories only on their store.
So Let's begin by first understanding the term "Niche" itself.
A niche is a specific market or a sub-market within a market that has a specific set of customers who have some definite needs, interests, and behavior related to that particular market.
This definition might sound pretty vague to you. Let's understand this with the help of an example-
Within the huge market of women's shoes, vegan shoes for animal lovers is a niche market and so are the specialized shoes for nurses, or shoes made with sustainable materials for sustainable living can be another one and there can be 'n' number of such niche markets within a particular market.
Similarly, within so many skills under the digital marketing umbrella, you as a digital marketer choose to serve the SaaS and tech industry among various industries with their Advertising needs.
And nearly every market can be further refined or divided by specific needs and preferences of the customers. And you can get as narrower as much as you can while selecting your niche.
But keep in mind if you make your niche too narrow, you'll have a hard time targeting the niche. As opposed to it if your niche is too broad, you'll face too much competition. So, keep your niche at a very median level. Try targeting a niche that caters to a larger audience (i.e identifying and fulfilling a problem/need of a larger segment of people).
Importance Of Choosing a Niche
Irrespective of what your professional goal is, whether it's blogging, affiliate marketing, digital marketing, e-commerce, or providing any kind of products or services as a professional/ business it's always recommended to select one or few niches and work on them initially.
For illustration –
As a blogger and an affiliate marketer you create content (like review blogs, YouTube videos, reels) to sell may be various kids' toys for a specific age group or could be a specific type of toys for a specific section of kids and earn affiliate income using affiliate links. Or,
As an e-commerce business owner, you discover your niche to be therapeutic musical toys for children with special needs and you only sell such toys in your store. Or,
As a digital marketing professional, you discover your niche to be Facebook Ads services for E-commerce Industry, and that too for a few sub-industries to begin with like the toys industry and baby healthcare products where the target audience for the products you are marketing, would be similar. Or
As a healthcare professional who has a specialization in child care.
So, That's what niche targeting looks like.
But you might ask,' Why can't I target multiple markets or market segments at one time and be the Jack of All?"
Let me also answer this question and emphasize the importance of choosing a niche with an example followed by a few very simple questions.
Just think of one company who is providing all sorts of products and services to all kinds of customers who are having diverse interests and needs. What do you think will be the resulting analytics of that company?
Will there be much scope for innovation in that company?
Will there be much efficiency in terms of production, quality, and support?
No, Right!
So it's important to focus on one or a few particular segment/s of a market rather than chasing every other market so that your efficiency in terms of working, productivity, and quality remains.
Rightly said,
"The man who chases two catches none."
Moreover by focusing on a niche your targeting and your brand's message both remain very clear and effective.
For example, as an e-commerce business or affiliate marketer one of your niche is, say selling thick yoga mats to pregnant women. As they get overweight during pregnancy so while doing yoga, their bones won't hurt and maybe they can conceive well.
That way your target audience would be just pregnant women for that particular niche and your brand's message would be the physical well-being of the women and their babies.
Another example could be a skilled professional who is a mother, who chooses to inspire and teach women like her a skill or two so that they can make out a living for themselves as well. Then her target customers are mothers or elderly ladies and the brand's message is to empower women and make them independent.
Increased wealth through specialization
We live in a global population of 7+ billion people. And there is an opportunity in every single market whether it's health, food, legal services, tech, etc. And new needs and niches are born every single day. For example when someone buys a new scooter. Now they also need servicing, washing, fuel, safety guards, etc for that particular vehicle. So new needs are discovered every single day. Now you just need to discover and fulfill that particular need in a particular market that you will define best for you.
As everyone specializes in one thing, the wealth of the entire nation goes up. You don't need to do other things yourself as you can hire others who are specialists in their own fields to do up things for you.
And moreover, as you specialize in a few specific things, it also becomes difficult for others to compete with you.
So, here we begin with the research part of things.
The process is simple but takes effort to research.
Your Profitable niche is a combination of three important aspects.
To make it simpler, I have a formula for you.
It states n = T ∩ M ∩ P, where 'n' stands for 'Niche', 'T' stands for 'Talent', 'P' for 'Passion', and 'M' for 'Market needs'.
The market segment where these three things intersect each other and get under one roof, that's the right niche for you.
So the point here is to identify and serve a market segment with the required products and services which resonate with your talent and passion.
That means If you have talent or skillset in a particular category and you can create/sell products and services in that category,
And you have the passion to back it up and do it every single day,
Also that product/service has a market full of prospects.
That's the way to go.
For illustration – As a professional photographer, if you find yourself inclined towards nature and wildlife. You go ahead with looking for opportunities in photography within that area.
Even if you are completely starting out. And you identify yourself as being fluent in speaking English and passionate enough to teach people a skill. You may go ahead with your niche research on that path.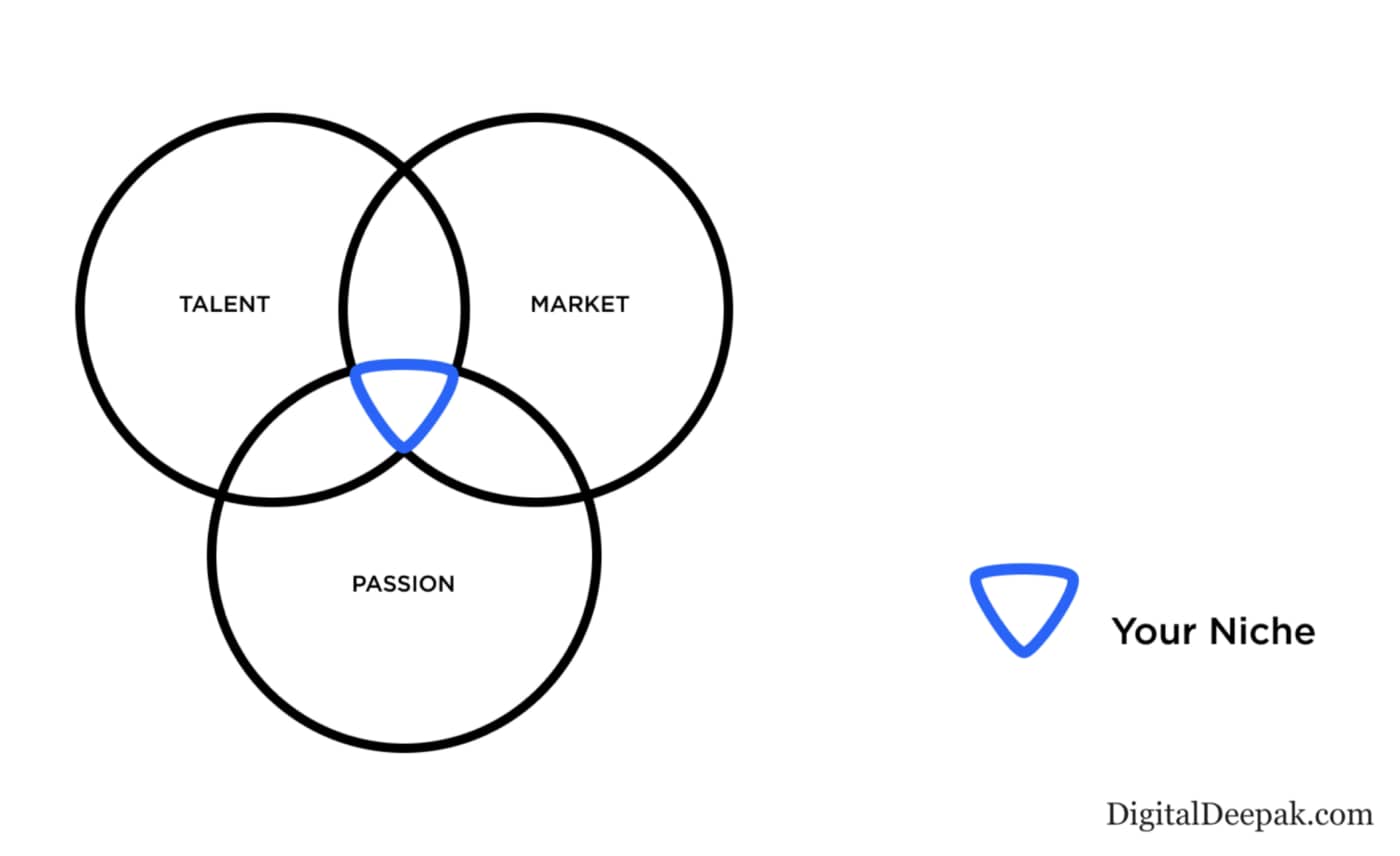 Let's break down the research process further.

Discovering your talent
Talent is the skillset you have developed by first acquiring the knowledge and then practicing it day by day, throughout the years to gain some level of expertise in it.
For illustration – You have the necessary knowledge and skillset to cook Italian food. That is your talent, or
You have earned the required entrepreneurial skills to run an e-commerce store through experience, or
As a health expert, you know the right practices to cure diabetes using lifestyle,
and there can be much more.
Although as an E-commerce business owner or affiliate marketer you may still be selling products that you are not skilled enough to manufacture yourself wholly or partially but at least have the right knowledge of the market & products you would be dealing in and promoting them. And if you are passionate enough about that market and look for prospects in that market then possibly that can be your e-commerce niche.
To find out your talent, you should ask yourself, your family, friends, and co-workers what you are good at. You will surely get answers.
For illustration-
Kapil- Finds himself somewhere skilled at cooking good Indian cuisine, and acquires some years of experience as an HR.
Shaan- Digital Marketing as he is already in this industry, other than that he knows Fine arts, Cooking well enough.
Discovering your passion
Sometimes your talent and passions will be the same but in most cases, you would've developed talent in something else as you grew up. For example, my passion is professional photography but I have no talent for it as I've never had the chance to practice it. 
So how do you find your passion?
Passion is that hidden force that drives us towards activities and subjects based on our natural inclinations. Things you were naturally excited to explore and learn about since childhood and now may have become your behavior. When you connect with your childhood inclinations you naturally feel happy and contented.
But always remember, the market will not pay you for your passion but will only pay for your talent. And if you are able to acquire a skill in an industry you are passionate about. Nothing like it.
List out things you enjoyed reading about or were always fascinated about as a kid. You may or may not have practiced them regularly but at least you are passionate about those activities.
For illustration-
Kapil- Activities for which he is passionate are cooking different cuisines and creating fusions of various recipes in different cuisines, creating viral growth ideas.
Shaan- Activities like Understanding things to their core, psychology, and creating art and designs.
Discovering the Market Needs
If you want to do what you love and still make a lot of money, you need to combine your talent and passion with the market needs. Because you may learn mastery over something you love to do but people may not need it.
However, it could be a possibility that there is not an immediate need for what you are trying to master and create out of it. But you saw it coming in the future based on some research. And when it happens you become the only solution for those people. But surely that can generate you an income only in the long run. 
And to sustain that long-term vision you may need to find ways that can help you generate a sustainable income presently. 
So, let's get into understanding the market opportunities.
If you are completely starting out as Kapil,
The purpose of market research is to hunt for viable products or services within a specific industry. And choosing a niche within.
i) First step is to identify with which industry or two your common set of talent skills and interests resonate. And choose one.
For illustration – Kapil's common interests and talent for Cooking resonate with the food industry and food service industry.
However, you could also begin directly with identifying a specific market purely out of your passion or interests which is being served by some industry-specific skills that you currently may not acquire or products you would have to learn to curate or source but you're surely interested in. And you learn all of that while or after doing niche research for that particular market.
So the point here I am trying to make is that your passion for a good viable market is as important as the talent or skills (which you can acquire anytime while or even after doing your niche research).
And secondly, you can directly dig into the niche research process for that specific market after validating the scope of market opportunities for the Industry where that particular market lies.
To illustrate – Say Kapil believes the market of Shawrma rolls and other street food lovers to be an exciting one and hopes to open a restaurant business in the market. However, presently he doesn't have the specific knowledge or skills to cook such recipes himself or create a business around it but goes ahead with niche research for this market once he validates the scope of market opportunities within the food service industry.
ii) Secondly validate the scope of market opportunities for your chosen industry by
a) Researching the Market-size for that industry:
For Kapil-
As per Statista, Revenue in the Food market amounts to US$963.60bn in 2023. The market is expected to grow annually by 7.23% (CAGR 2023-2027).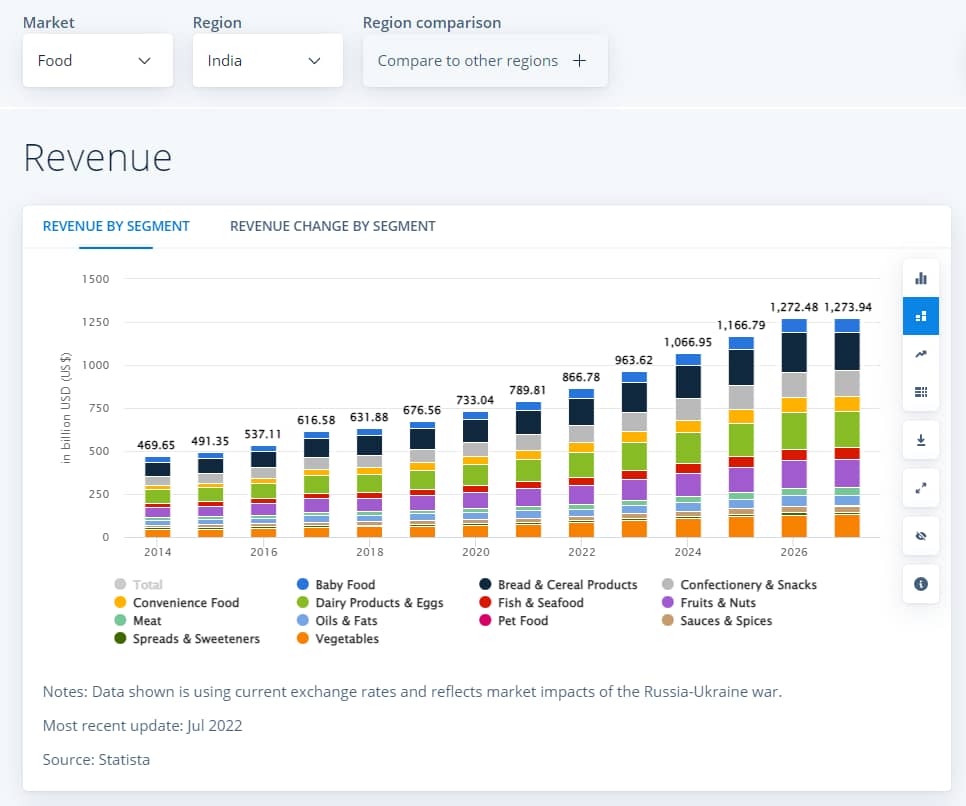 As per TechSci Research, India's food service market is anticipated to project robust growth in the forecast period with an impressive CAGR of 11.19% and reach USD79.65 billion by 2028F on account of changing lifestyles, rising health consciousness, a large number of the youthful and working population, who are well-traveled, have double incomes, and are experimental as well as tech-smart, eat out more than their forefathers.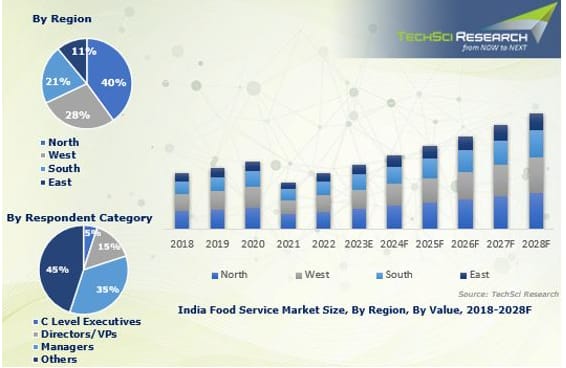 For Shaan-
As per EMR, The Indian digital marketing market reached a value of nearly USD 4.5 billion in 2022. The industry is rising at a CAGR of 32.1% to reach a value of more than USD 24.1 billion by 2028. The market's primary driver is the growing global population's increasing affinity towards the digital channels of media.

b) Search interest within the market for that particular industry:
Use Google Trends for this. 
If the search interest within your primary target market (say India) over the last 12 months time period is consistently above 25, it is a pretty good market to start with.
For Kapil-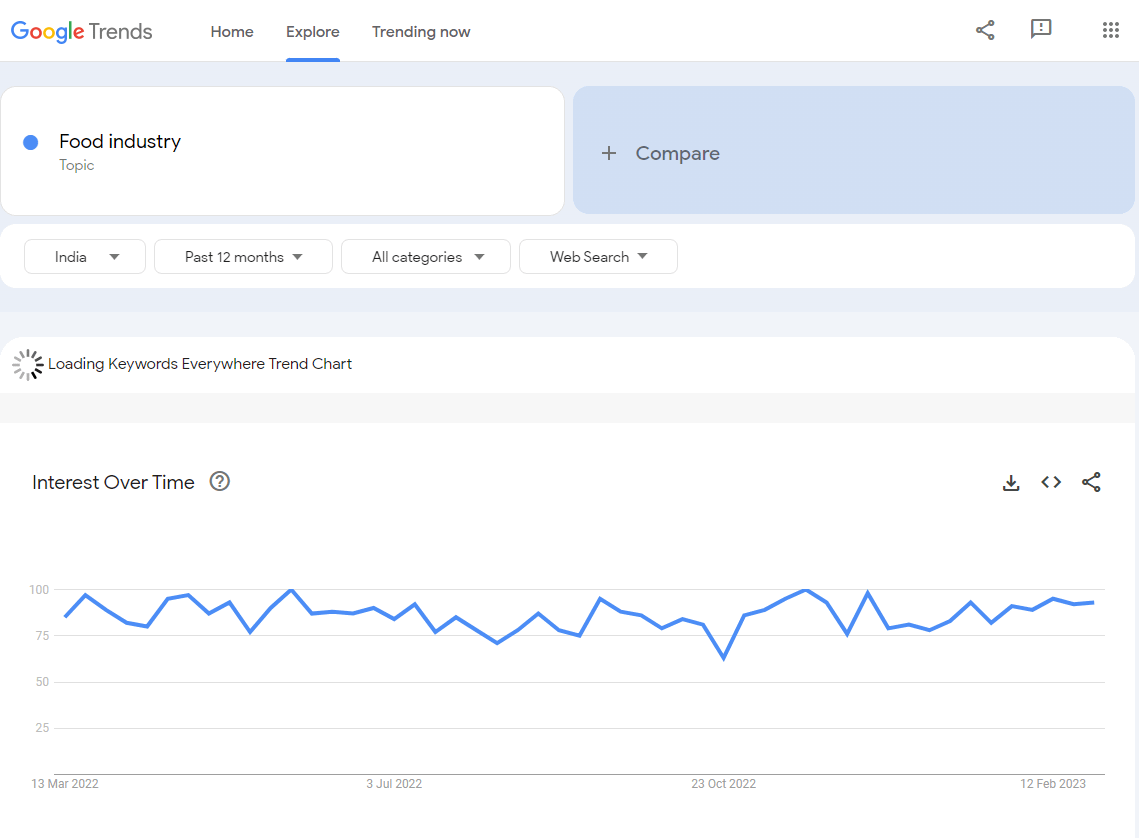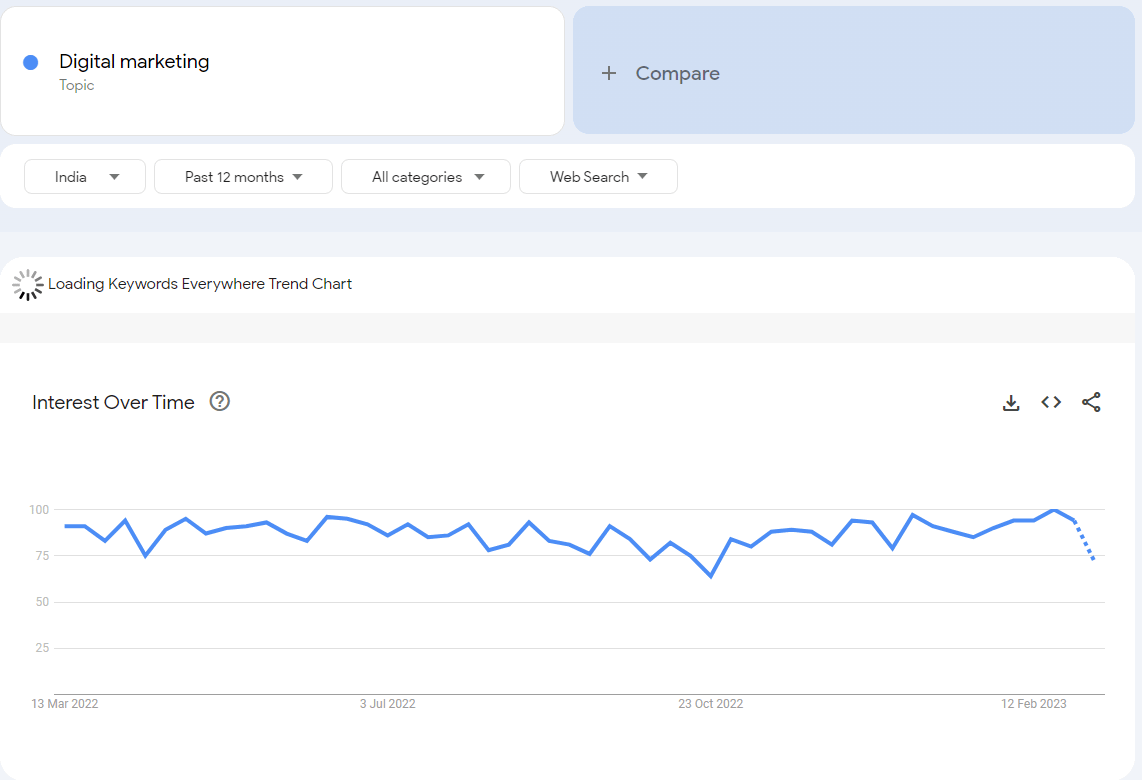 iii) As per your goal of either starting out a new business or becoming a professional figure out the various offerings you could create based upon your current assumptions or research about what are the various types of products and services your chosen industry is catering to the market with.
To illustrate-
Being a professional in the Food or Foodservice industry, Kapil can-
– Become a chef and work somewhere,
– Become a nutritionist or a fitness trainer, etc.
Starting a business in the Food and Foodservice industry, Kapil can-
– Open up a restaurant,
– Sell food products on an online or offline store or even through social media as well,
– Sell courses on Indian cooking,
– Become a food blogger or vlogger, etc.
Or if you have a market already in your mind like shawarma and other street food items for Kapil, you can directly jump on to research the needs of your niche market.
iv) It's time to research the market needs in the niche you chose to be in. (Here Digital Marketing in the case of Shaan and shawarma & other street food market for Kapil).
People want to go from their current situation to their desired situation and your product will be the bridge between where they are and where they want to be.
Only by discovering and understanding the market needs you'll be able to distinguish between their current and desired situation and then you will be able to design an offer that can help them.
A few ways by which you as a new or an existing professional/business can understand the needs of your validated market are as follows-
a) Start with understanding the needs of the market based on the assumptions you already have.
Being a professional in the Digital Marketing industry, Shaan can provide digital marketing services for- Email Marketing, Search Engine Optimization (SEO), Interactive Consumer Website, Online/Display Advertising, Social Media Marketing, Mobile Marketing, Viral Marketing, and Others.
And that too for various Industries such as Automotive, Consumer Packaged Goods, Telecom, Real Estate, Retail, and Others.
Pick one of the above skills as per your interests and get ahead with the research. 
Say Shaan, chooses to go ahead with researching the market needs for Paid Ads first, primarily Google Ads as he is good with numbers. 
What do you understand about this market presently?
Shaan knows,
– There must be a need for Google Ads Professionals as running Google ads can be very complex.
– Search engines are crowded, hence Google Ads are necessary for various reasons like avoiding the competition of ranking organically on SERPs.
– Google Ads focuses more on Inbound marketing.
– Google Ads can benefit Industries like IT, E-commerce, Education and training, Automotive, Real Estate, Retail, and all others that are indexed on google.
– The level of dependency on different types of Google ads may differ from industry to industry or strategy to strategy. For example, E-commerce may rely more on Google shopping ads, etc.
b) Top 10 blogs in your niche
c) Top Books in your niche
Google Ads is a very niched industry-specific skill that keeps evolving quite rapidly as the tech advances. And Books somehow lose their relevance once they get old or are not updated. Although the fundamentals of marketing and ad targeting still remain the same.
Some of the popular books in google ads & digital marketing are as follows-
d) Niche Research also involves –
(i) Keyword research – What people in your niche are searching for?
(ii) Competitors Research – Look at what type of clients/ customers they are helping, and what they are not able to help them with and have left some gaps for you to fill up. 
Use the following tools and resources to perform the above respective researches-
Google Auto Suggest- When you type some keywords on google, it further suggests you some relative keywords. These are the keywords people are already searching for. This will give you an idea what your market wants.
Let's search what are the market needs for Shaan's niche i.e Google Ads.
Just type in 'Your_niche_for_the_research' and put space.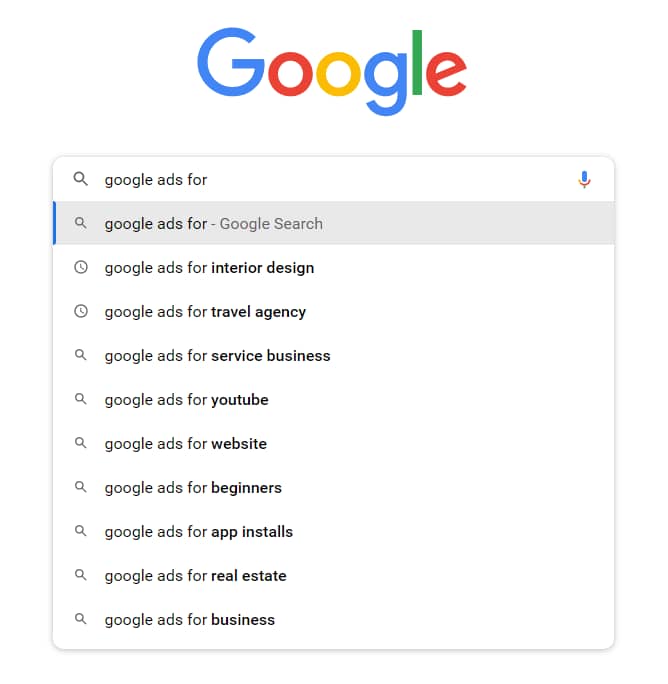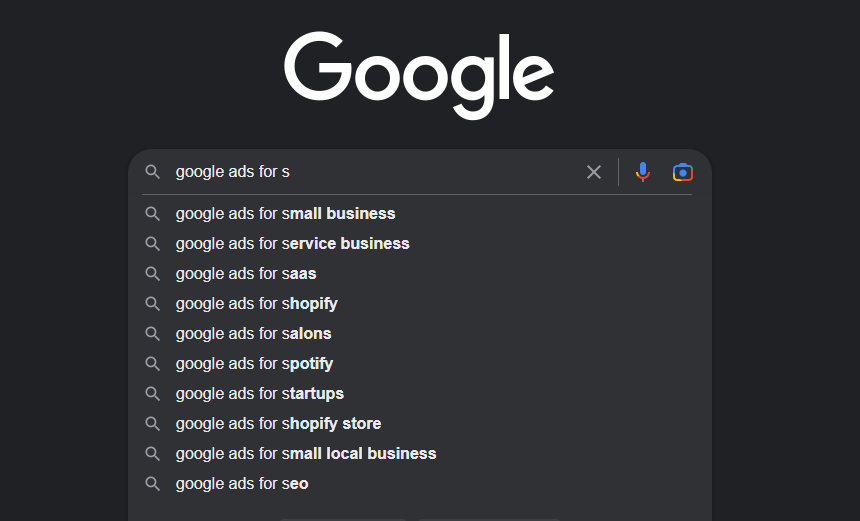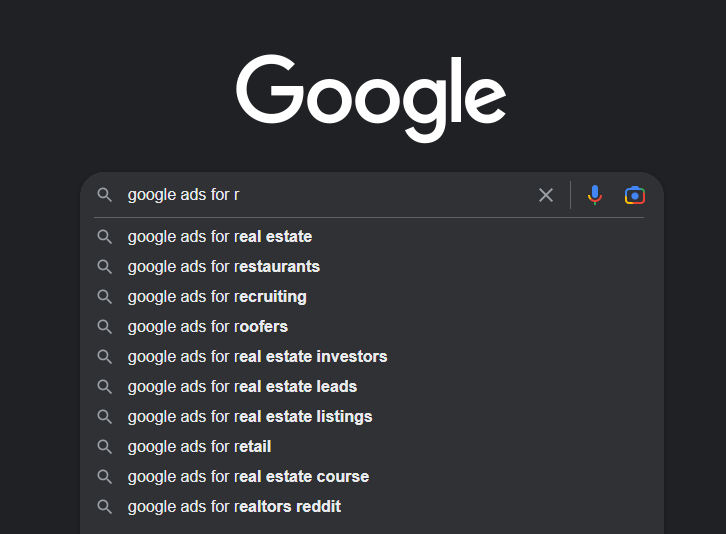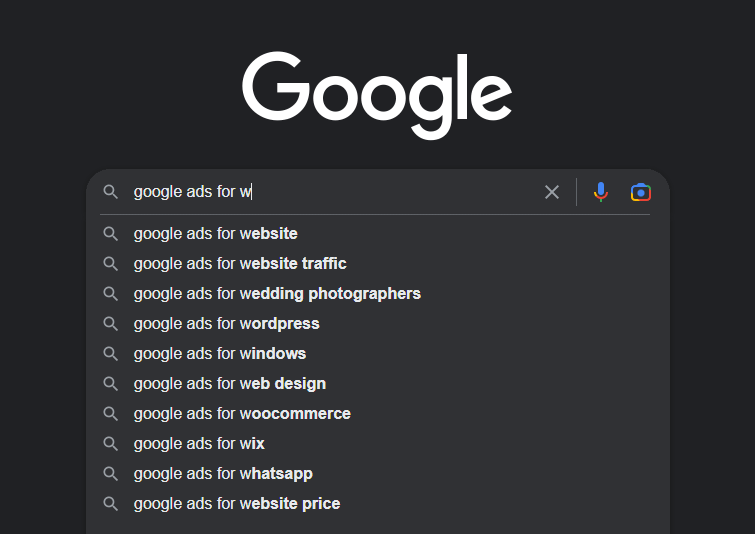 All the above suggestions are the different micro-niches available to choose from, experiment with, and target as a Google Ads Marketer.
Google Trends – People's interest in a particular search term over a period of time. You can compare two different topics within your niche for trend analysis and may provide value to your customers in those areas.
Shaan analysed what type of ads within google ads are being talked about the most. Also, provided him with repetitive search queries within his niche.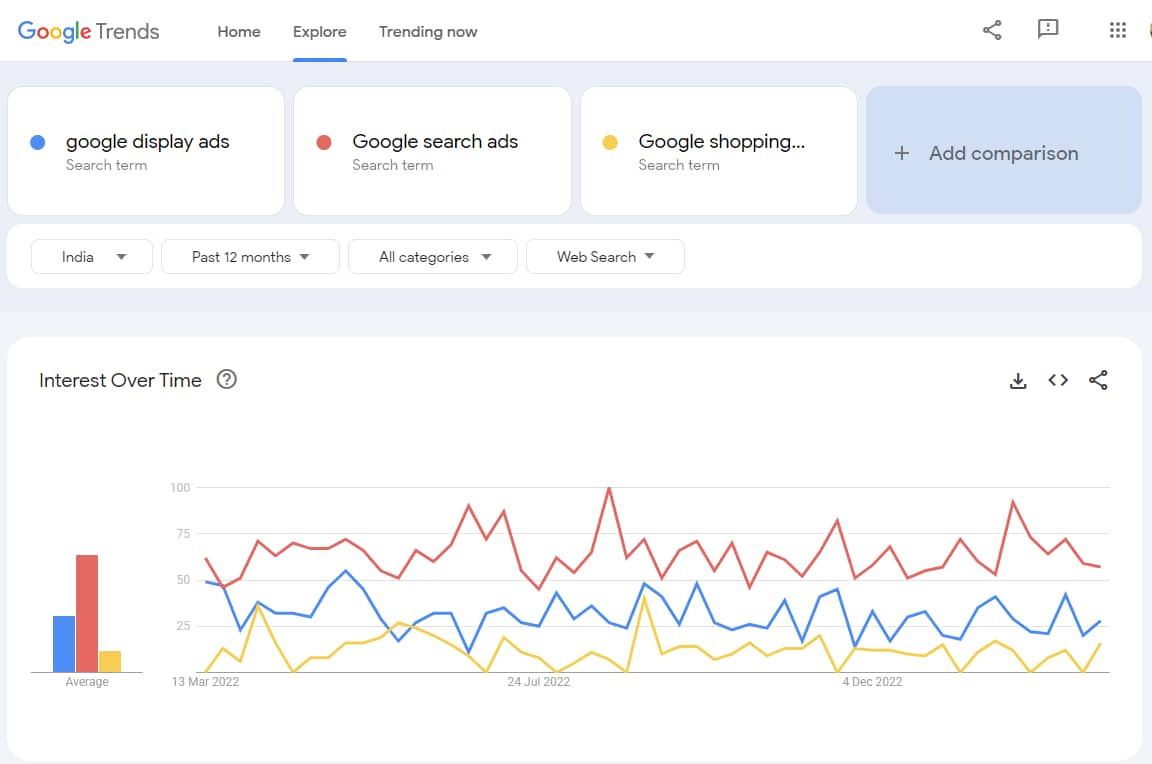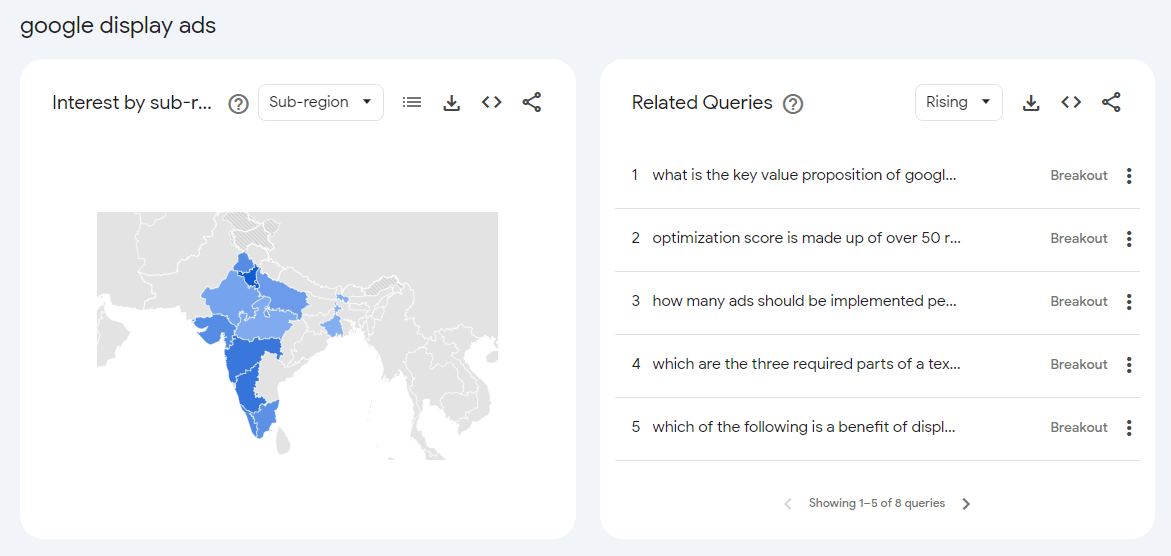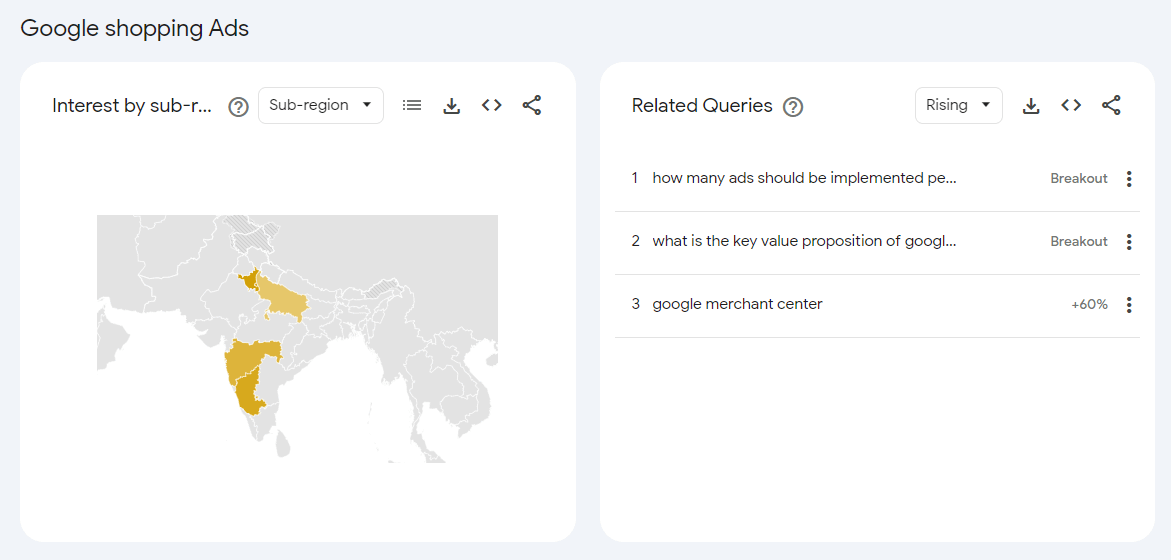 Amazon Search – If you want to decide on a niche or micro-niche for an e-commerce store, similar to Google Auto Suggest here also you can search for related keywords that people are searching on amazon. And choose within them.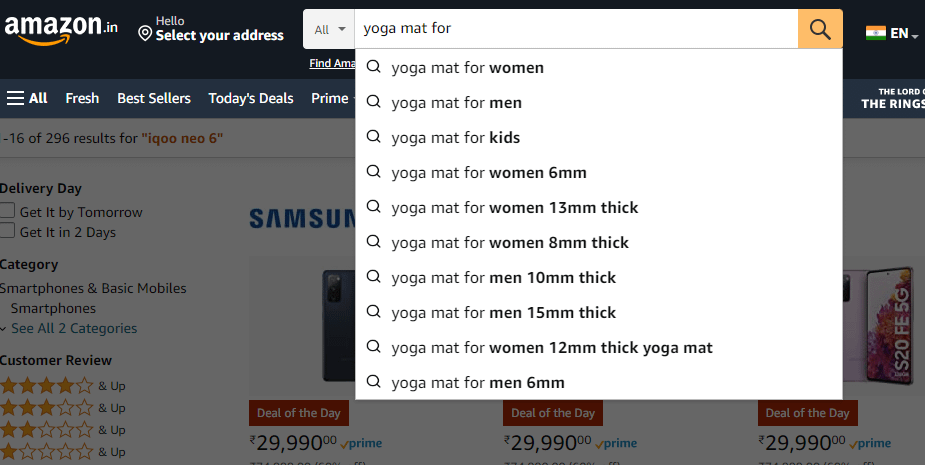 Amazon Best Sellers – Another way is to check for best-selling products in your particular niche. Head over to the bestseller section on Amazon so that you can have an idea what are the most selling items in your niche. And read below the reviews and queries of the customers then create an offer that they can't refuse.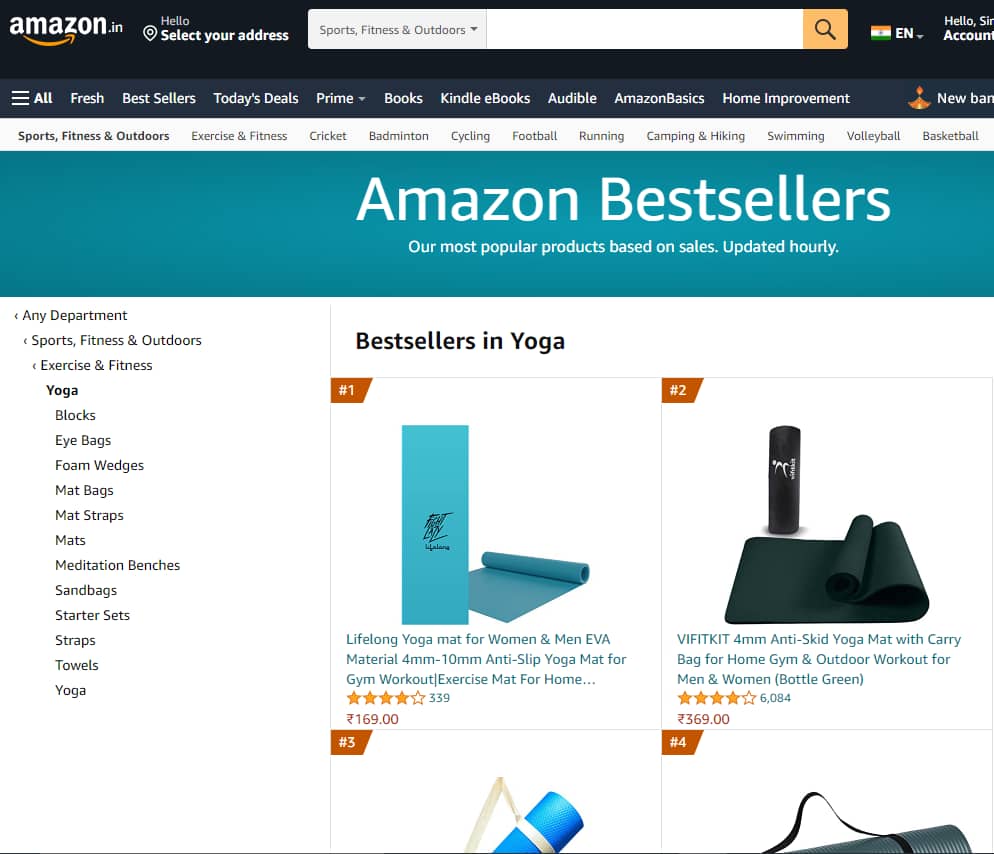 Facebook Ads Library & Marketplace – Look out for the advertisements your competitors are running on Facebook & Google. Longer the time since the advertisements are running greater the chances that the particular product/service is working out for them. And you can enter the market with similar products/services.
Youtube Channels – Find popular youtube channels in your niche and check the type of content they are sharing. Or look out for influencers within your niche who can possibly promote your product/service in the future.
Niche Research through a Community – It can be Facebook or Telegram groups. There you can create polls, ask questions, answer queries, do AMA (Ask Me Anything) sessions, ask what they want to learn etc. More queries about a particular topic means your community wants to learn more about that particular topic. So provide them with those resources.
Others – A few other ways by which you can understand the needs of your validated market –
– Read the reviews on Amazon and other e-commerce websites for the products in your particular niche.
– You can also read comments on customer complaint websites. Find out the gaps in the market.
– Affiliate Marketplaces – This will let you know what competitors' products are available for affiliates to promote. And which ones are the trending ones.
– Education Marketplaces – If you are a mentor and create or willing to create training programs, then research the various courses in your niche on different education marketplaces like udemy, skillshop, coursera, etc. Besides what value they are providing their students, check for reviews and find questions and queries that are still unanswered to them.
– Kindle book store – Book reviews
– Quora / Medium / other Blogging Channels – Questions asked and answered in your niche.
After discovering the various opportunities available in a particular market that coincides with your passion & talent, you can decide whether to go ahead with that market or not. Or explore some different markets.
Your niche is always evolving
Remember, your niche keeps evolving with time. There will be new niches coming all the time that you wouldn't have thought existed. And you will end up inventing or discovering a new niche as the market keeps evolving.
You stack up new skills to create new offers for new needs generated over time. So staying updated with new skill sets is a must.
To fulfill the discovered market needs, you also need to discover your ideal buyer. That's where the concept of the Buyer's Persona comes into the picture.
In the above discussion, we understood in-depth what is a Niche, the Importance of having one, & how to discover your profitable Niche.
See you in another conversation,
Bye.
Subscribe to get notified of the latest Issues & access to the library of members-only issues.