Digital Marketing For E-Commerce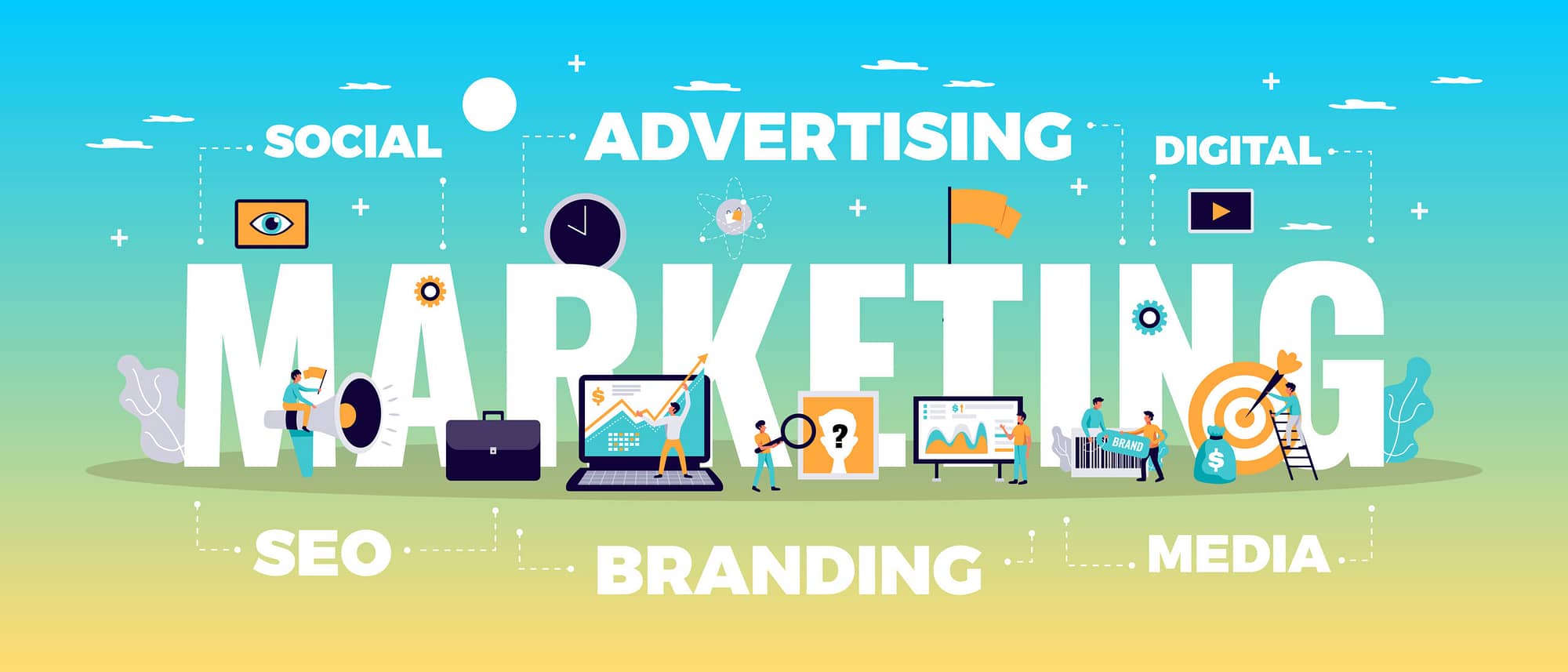 E-commerce (electronic commerce) is buying & selling of goods & services over an electronic network (primarily the internet) which can be conducted through computers, tablets, smartphones, and other smart devices. Basically, it's nothing more than an online mode of exchanging goods & services for a consideration (primarily money).
E-commerce created new ways to conduct the same businesses which required new modes of selling and therefore opened a hump of new opportunities for the unique skilled professional to get things done. Example – Digital Marketers, Graphic Designers, Web Developers, etc.
Also this new way of doing commerce created the need for new products and services to support the online trade. Example – SaaS Products like Shopify, Zoom, Shopfy, Hubspot, Slack, etc; Payment gateways like Razorpay, Paytm, Paypal, etc; Marketplaces like Amazon, Indiamart, etc; Online fulfilment partner services like Shiprocket; Online Product packaging material providers like Inkmonk, etc.
And even the high internet penetration gave rise to the new market needs and hence created opportinities for individuals/businesses to create new products and services that could be purchased online. eg Netflix, Prime, etc.
And today, nearly every imaginable product and service is available through e-commerce transactions. Electronic items, e-books, music files, software subscriptions, and legal services to name a few of the kinds. And e-commerce may be the only or one of the many sales methods used by businesses. But it has definitely become indispensable owing to modern times.
Here Goods & Services can be majorly categorized as-
Physical products – Refrigerator, Mobile device, T-shirt, etc.
Digital products – E-books, online Training program, Wallpapers, stock library images, Printable Posters, etc.
Services – Video Editing, Graphic Designing, Digital Marketing, etc.
SaaS products – Google Excel, Chatbot software, Video Editing Software, etc.
Intended practices by a business to reach out to its potential customers through various channels – traditional and/or digital, with an aim to turn them into its loyal customers. These practices are often conducted by the professionals called Marketers. So a Marketer is a person who solves the specific problems faced by the business on its way to solving a bigger problem or fulfilling a significant market need/want/desire.
Traditional Marketing & Digital Marketing
Traditional marketing refers to a form of promotion that reaches an audience offline. Brands use traditional marketing channels to engage their audience and broaden their reach such as –
Print media (newspaper and magazine ads, billboard ads, newsletters, brochures, leaflets, etc.),
Broadcast media (TV and radio Ads),
Direct mail (flyers, postcards, catalogs),
Telemarketing, etc.
Whereas Digital marketing refers to using online platforms to promote a product or service. Some common forms of digital marketing include –
Email,
Search Engine Optimization,
Social media,
Blogging, etc.
For E-commerce – Traditional or Digital Marketing?
Both can be used parallely. Traditional channels can be beneficial for branding & reaching out to a larger audience. How much to focus upon them depends upon business to business.
But since E-commerce is buying & selling of goods and services "online." Undoubtedly you need to have a complete & a strong 'Digital Marketing Strategy' for your E-commerce business.
What is a Marketing Funnel?
A visual representation of the various processes and planned marketing efforts integrated under different stages of an intended customer journey, the potential customer must go through. The journey initiates by getting the potential customer aware about the brand to turning them into its loyal customers.
The Funnel is always wide at the top and gets narrower as we move further. Because it's crucial to get in the maximum number of potential customers in the begining as people choose to drop off throughout the journey due to various reasons. But you have to do everything to keep them moving throughout the funnel.
Although the different stages of a well developed marketing funnel can involve various practices that use both the channels (online and offline) to move the prospects down the funnel but as we are focusing upon E-commerce and digital marketing, we'll primarily discuss about 'Digital Marketing Funnel' where 'digital marketing' plays the vital role to run the whole funnel.
Why do we need a Digital Marketing Funnel?
A customer who ever bought something online or offline, would definitely have had a unique journey with respect to that product. From being getting aware about it to end up purchasing it regularly. And there would always some common triggers, behaviours, touchpoints & responses amongst different people on their journey to buy the very same product. And study of those common attributes can be used to design a marketing funnel.
So, a digital marketing funnel is a kind of a pre-defined, well thought of and an intended customer journey that has been studied, also been put to test and worked out well in the past and is expected to work again by making the potential customers live through it via the various digital marketing efforts by the business.
Although marketing funnels keep on evolving with time. And businesses can also design their own customised funnels for their specific goals.
In the following ways, a Digital Marketing Funnel helps in-
– Design informed marketing actions
– Break customer journey into stages
– Break stages into small goals
– Measure the success on those goals
– Track of audience
– Improvement by understanding various metrics, analytical data and customer behaviour.
Digital Marketing Funnel for E-commerce
Till now we understood what is E-commerce, its Types, various Business models; Marketing, different Channels of Marketing, the significance of Digital marketing for E-commerce, the Marketing Funnel, the importance of having a Digital Marketing Funnel for your E-commerce business.
Now you might or must be wandering for the answers to the following questions-
How to design a digital marketing funnel for my e-commerce business?
What would be the different stages of the funnel?
What would be the various practices my marketer or I would implement to get the best out of the funnel?
Before I answer them. What if I tell you that you are already quite informed to answer a lot about them by yourself. Just try this.
Encode how to sell by simply decoding how did you get sold.
You can very easily analyze by yourself, the various marketing efforts taken by the businesses under the different stages of a marketing funnel without even any prior knowledge of Digital Marketing & E-commerce Funnels.
With this simple exercise.
Just think of a product you buy for yourself on a regular basis & even might have recommended it to somebody in the past.
What was your personal journey with that product? Breaking down this journey will help you determine the various efforts every business tries to make to achieve a successful customer journey like yours.
Let's break it down by answering a few following questions for ourselves. As I am also a part of this exercise.
Q1. You have the product in your mind. Great! What is it?
– Natural Camphor (the type is called Bhimseni Camphor)
Q2. What convinced you to have a need or desire for that product?
– Awareness regarding the health hazards of chemical-based air fresheners by a health influencer and this product was regarded as the solution to this problem.
(I came across a problem through a health influencer, and therefore developed a need. Although it's a result of organic influencer marketing as it was unsponsered video but it could also be the brand who could do that via various means such as social media marketing, Ads, SEO, and paid influncer marketing to create awareness and push in the customer to enter the funnel.)
Q3. Where did you first find it?
– In the search results under the sponsored section, when I searched for it on google.
(I came across a product as the solution. And tried searching it on the internet. Found it easily under the search results. My first encounter with that product and brand was quick because of the google shopping ads they were already running on the keywords 'best bhimseni camphor', I was going to search for). The stage of 'Awareness comprises the above efforts.'
Q4. What convinced you to choose only this one over the competition?
– Influencer trust, rechecked the product's ingredients, the product page shared a few facts to verify and compare the purity of their product from their competitors available in the market, free shipping over a specific amount so I even added a few other products to try, a good number of quality reviews, detailed product usage and description, price comparatively better, overall brand's message and efforts to share eco-friendly alternatives.
(Once I reach to the product page, I got convinced very easily. Because the brand already knew I might be considering that product at this stage & and they tried their best to convert me by showing me a discounted price of their product, best described their product as per the customer's needs, gave true reasons to experience the purity of their product or otherwise question it, also upsells by showing attractive price offers). Such practices are a part of 'Consideration' and 'Conversion' stages.
Q5. Did it solve the problem you purchased it for?
– Yes! A good quality product. Refreshing fragrance. Trusting the authenticity of it, I believe it to be a step forward towards natural living.
Q6. Why do you purchase it regularly?
– Didn't come across a better product and deal from another brand. Regular promotional offers from the brand via emails, whats apps, ads, etc.
Q7. Do you now even try to search & switch to a product better than this that might be available in the market already? If not, why?
– No, It has already solved my problem. I don't feel the need to find anything better.
Q8. What made you recommend it to somebody else?
– I also kind of try to advocate the use of natural products as much as possible. I believe this one to be a hassle-free and affordable alternative to artificial fragrant air fresheners.
(The brand also knew that marketing can help them in creating a very pleasing perception about their product, but their actual product is the reality. Their customers' loyalty majorly depends upon reality of their product. After an year the quality of my purchase is still the same.) Various other efforts by the brands – personal branding, brand's message, community building, customer feedbacks, improvements and customer care services and everything that leads customer satisfaction). All such goals becomes a part of the 'Loyalty' stage.
The above analysis gave us an idea what are the various stages and practices of a well developed & implemented marketing funnel are.
 i.e Awareness – Consideration – Conversion – Loyalty
In the next posts we'll discuss each of the stages in more details. So, make sure you Subscribe & don't miss out on them
I also recommend you to checkout this resourceful Digital Marketing Blog to grow your E-commerce Business.
Subscribe to get notified of the latest Issues & access to the library of members-only issues.